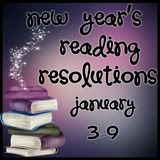 This blog hop last from Jan. 3 12:01 AM- Jan. 9 11:59 PM.
US only. Sorry International people maybe next giveaway...
On this blog you will have a choice between an ARC of
Personal Demons
, the book
Crank
, or the book
Book of Shadows (Sweep, No. 1)
. These books are both in very good shape. Sweep is brand new, Crank hasn't even been read and Personal Demons has only been read once, by me.
You don't have to be a follower, but if will be greatly appreciated!
My 1st blogoversary is coming up and the more followers I have the more things I will give away!
The only requirements are for you to leave a comment with your email and live in the US.
I'll will contact the winner by email and the winner will have 48 hours to respond
or I will pick another winner.